Excellent Example CV UK and International
The excellent example CV / resume below was produced for Helen Shaw by Bradley CVs for the Guardian Newspaper's CV clinic and shows you how a professional CV writing service can produce an interview-grabbing CV that makes employers invite you to those vital job interviews.
Below the example CV, we have also included hints and tips on how to produce your own first-class CV.
Do you need a better CV? Our CV Writing Service can produce a powerful CV for you that'll win you the job interviews you desire.
Fatal CV Writing Mistakes
As well as checking out the CV example below, you may also want to see our examples of good and bad CVs where you can see Helen's original CV and learn about the fatal mistakes she made, mistakes you may have made too.
Another way to discover the fatal mistakes you've made on your CV is with our Free CV Review. You'll learn how to substantially improve your CV, so employers take more notice of your CV and want to invite you to those crucial job interviews.
Excellent Example CV
Please note the copyright statement on the example CV below doesn't appear on the CVs we produce for our clients - it asserts our copyright on this website. All personal details have been changed to protect Helen's identity, including her name, address, telephone number, email address, etc.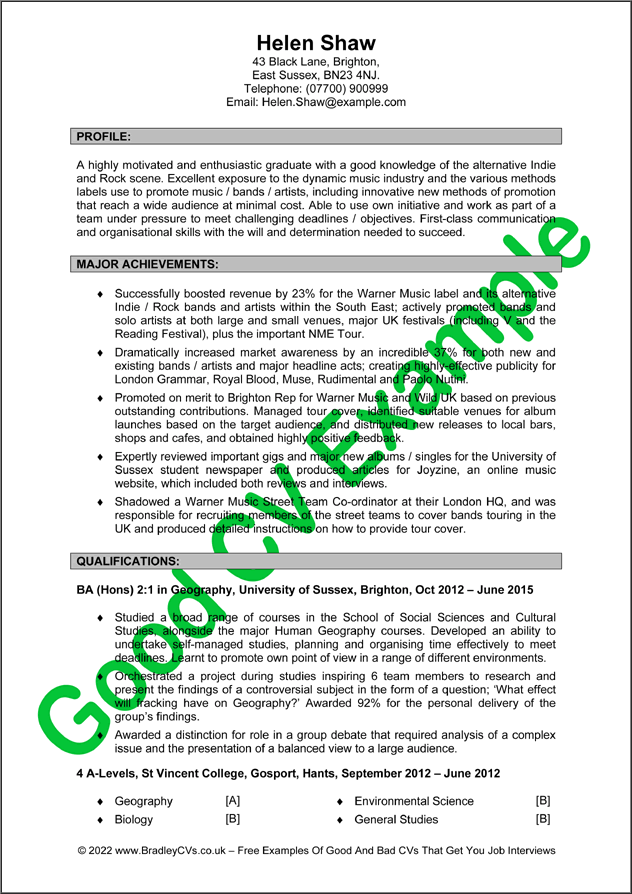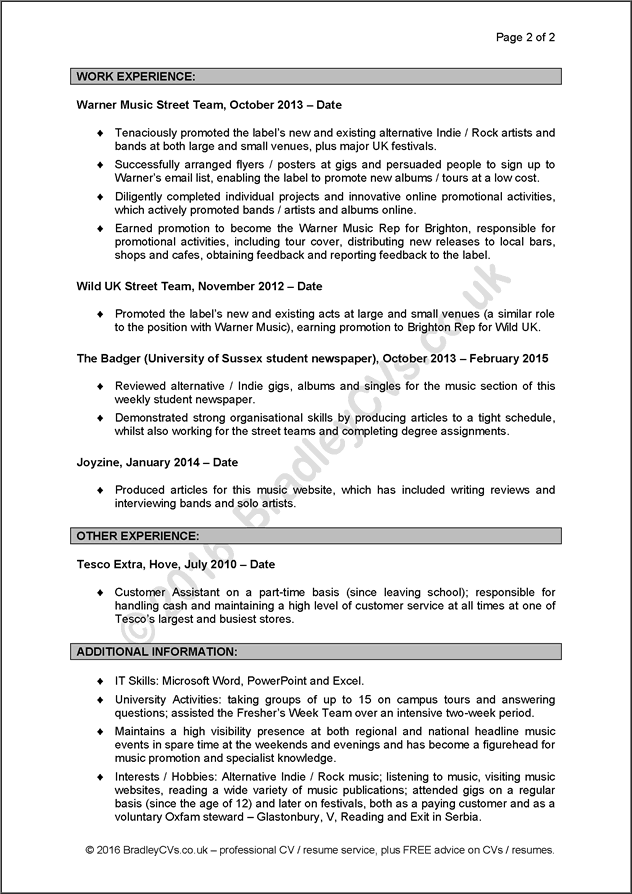 This CV written by Bradley CVs enabled Helen to secure a job with a major UK record label.
How We Produced This Excellent Example CV and How You Can Produce a Great CV Yourself
The first thing that you need to do if you want to produce an excellent CV is to identify all the relevant skills, experience and achievements that need to be included in your CV that will impress an employer.
We did this during our comprehensive telephone consultation with Helen as part of our Premier CV Service. This led to a vastly improved CV being produced that elicited far more job interviews.
If you're producing your own CV, then you'll need to analyse your own experience, achievements and skills before you start to write your CV.
FREE Report: How to dramatically improve your CV and win interviews.
What we did and what you need to do:
We identified Helen's career goals - it's very important that you tailor your CV to the specific vacancies you are applying for - your CV must be closely aligned to your goals - this is absolutely crucial if you'd like to win as many interviews as possible.
Helen's existing Profile (at the start of her CV) wasn't really selling her to an employer. We identified Helen's relevant skills and experience - you need to do this in an objective manner if you are going to impress an employer.
The work experience section on Helen's CV needed to be completely rewritten, as she didn't know what to include or exclude - we identified vital information that needed to be included. If don't use a CV service, make sure you find out exactly what an employer expects to see on your CV.
There were no achievements on Helen's original CV. Most people fail to identify and sell their achievements to an employer. During the consultation we identified lots of excellent achievements that would make an employer take notice of Helen's CV. You must make sure you identify your own achievements if you want to stand out from a pile of 100+ CVs.
How to Write an Excellent CV That Wins You Interviews
After analysing what information needs to be included in your CV, you then need to write a CV that sells your skills, experience and achievements directly to an employer in a way that tells an employer exactly why they should interview you, rather than any of the other job applicants.
Here's what we did to create the above excellent example CV, plus what you need to do yourself if you want to create a great CV yourself:
Like most CVs Helen's Profile didn't reflect her personality and what she was capable of, so we started again from scratch. When you're writing your CV, you need to inject your personality, experience, skills and enthusiasm for your sector / profession into your Profile to make it really stand out.
Helen's CV lacked a Major Achievements section, so we added one in and included Helen's first-class achievements that we identified in the telephone consultation. Make sure you uncover some of your own achievements, as these will make an employer take notice of your CV.
The work experience section was weak and lacked conviction. We rewrote it, underlining Helen's solid transferable skills and excellent experience. When writing your CV, make sure you are completely clear about the specific skills and experience you have that is relevant to the job you are applying for.
Overall Helen's CV lacked emotive language to sell her to an employer, as expert copywriters we were able to produce a far more powerful CV. You need to master the art of copywriting, so that you can sell yourself and your skills, experience and achievements to an employer.
There were quite a few basic mistakes on Helen's CV - mistakes aren't always easy to identify on your own CV - so get several other people to check your CV.
Professional CV Service / Example CVs:
Further CV Service Pages:
Additional Services: