Free CV Examples That Will Ensure You Win More Interviews
On this page you will find a CV example that shows you how to set out your CV - the CV below won numerous interviews and was written by Bradley CVs who have 28 years' experience in expertly writing CVs.
A copyright statement isn't included on CVs produced by our CV writing service, but is included on our CV examples to protect them.
Free CV Example
Our Example CVs demonstrate how you can create an outstanding CV from a weak CV, and you'll also discover further tips below on how to improve your own CV.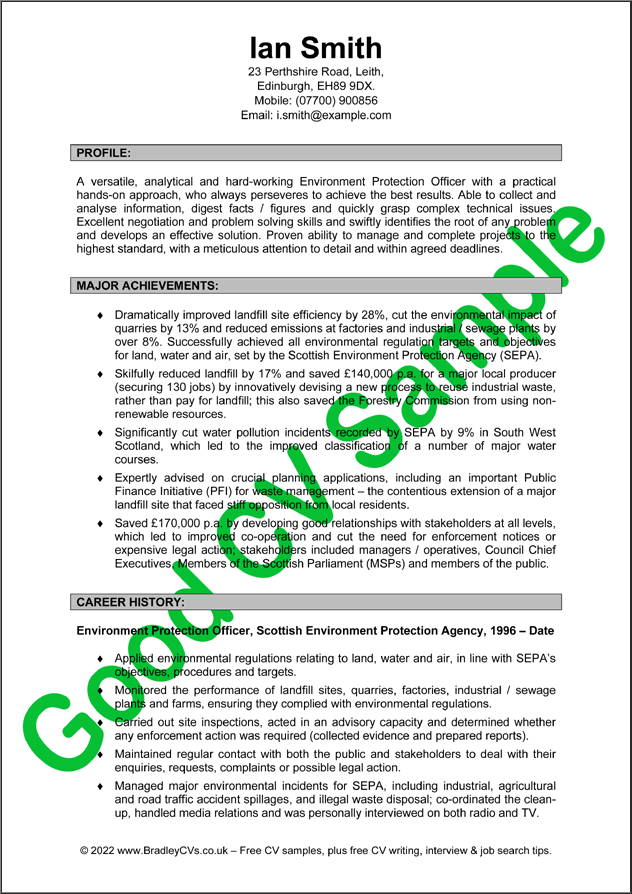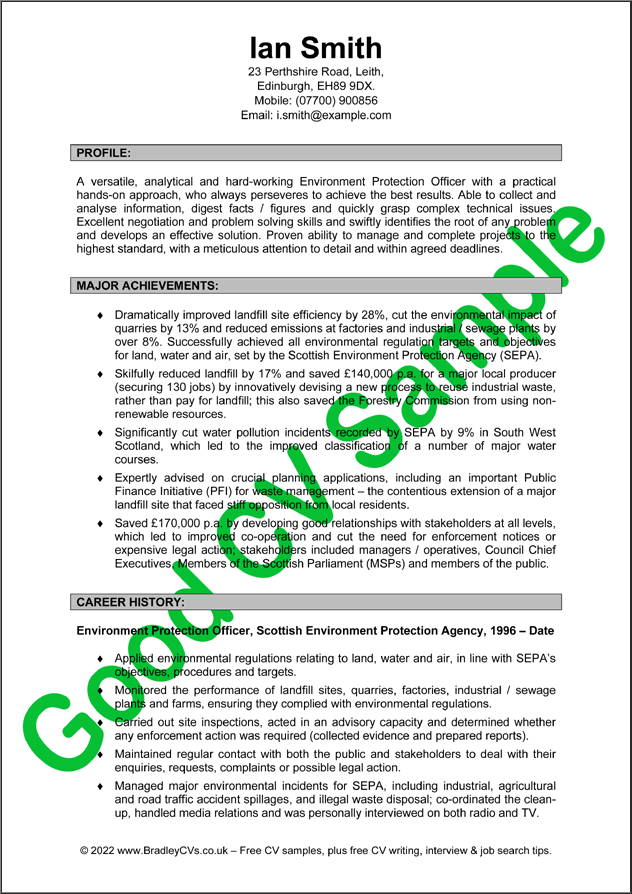 To dramatically improve your CV and get more interviews please check out:
Want to see more CV examples?
On our Sample CVs page you can get ideas for your own CV by viewing before and after CV to see the complete transformation of a very poor original CV into an impressive CV, which quickly won interviews and job offers.
In the Graduate CV you'll learn how to produce the perfect CV to capture those elusive graduate jobs - the CV was produced for the Guardian Newspaper's CV Clinic.
Need a better CV? A Professional CV Writing Service can instantly improve your chances of winning the interviews that you'd like, even if you are competing against 100s of job applicants.
How to Improve Your CV
Presentation and layout
The first thing that you need to get right is the layout and presentation of your CV.
This is essential, because if an employer finds it hard to find the information that they need, they'll simply move on to the next CV.
You therefore need to ensure that you've used a good layout that makes it easy for an employer - like the layout we have used above in our CV example.
Identify key achievements / results
Employers want to know about what achievements and results you've had in the past, because past behaviour is normally a good predictor of future behaviour.
In the CV example above we've picked out the key achievements and placed them in a Major Achievements section, which makes them stand out.
You must similarly identify your own achievements that relate to the jobs you have done and the results you have achieved.
Failing to list achievements will mean that your CV is far weaker than the better CVs an employer will receive, so you are far less likely to be invited for an interview.
Everyone has achievements, if you need assistance identifying your achievements, then a professional CV service such as Bradley CVs can be a big help - clients are always surprised by how many achievements we uncover.
Selling yourself
Your CV has just one job, to sell you and your experience to an employer - if it doesn't make an employer want to interview you, then it has failed utterly.
It may have to beat 100s of other applicants, if you're applying for a desirable job that everyone else wants too.
Use persuasive language like we've used in our CV examples to convince an employer that you have the skills, experience and achievements that match the employer's own requirements.
Pay particular attention to selling your achievements and results for the various jobs that you have undertaken - this is a key differential and can either win you or lose you interviews.
If you can't sell yourself on your CV, then you may want to think about using professional CV writers like Bradley CVs who are expert copywriters and know how to sell you to employers, making them want to interview you, even if you have to beat 100s of rivals.
Tailor your CV
Few people even think about tailoring their CV to each job vacancy, but if you don't you're missing a real opportunity to impress an employer.
The closer your CV matches exactly what an employer is looking for, the more likely they are to want to interview you.
But a word of warning, don't copy the job advert word for word - this is a recipe for disaster and could lead to you being eliminated at the start.
Ensure that your CV demonstrates that you have all the experience, skills and results demanded by the job you are applying for.
Professional CV Service / CV Examples:
Need help with your CV? Our professional CV service can produce an attractive and expertly written CV that will capture the reader's attention and immediately make them want to interview you.
Further CV Service Pages:
Other Services by Bradley CVs: