Get an Attention-Grabbing LinkedIn Profile That Makes Recruiters and Employers Want to Interview You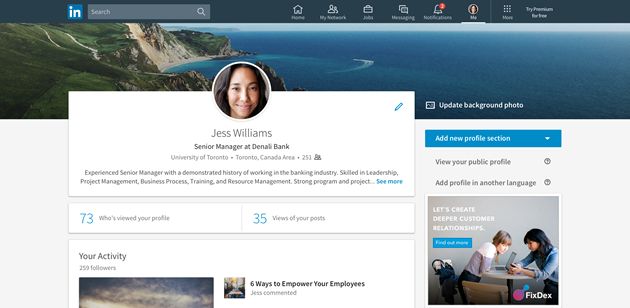 With more than 450 million members worldwide, LinkedIn is a great way to connect and be found. 1000s of recruiters and employers search LinkedIn every day to find suitable candidates for their job vacancies.
Have you also thought about all the other people who may be viewing your Profile? For instance, your boss and other senior managers may be considering you for a promotion or pay rise and view your Profile.
So, there is a lot at stake - you can't afford to give the wrong impression on your LinkedIn Profile. A poorly written Profile will seriously harm your future career prospects.
First impressions count for a lot and therefore your LinkedIn Profile must act as a sales brochure for your talent and must be written in a compelling and exciting manner that really impresses anyone reading it.
Why Are You Missing Out on Interviews?
If your LinkedIn Profile doesn't generate the interviews you want, then it may be because you are:
Failing to use persuasive and compelling language that markets you to both employers and recruiters in less than 30 seconds - they'll instantly reject you and move on to the next Profile if yours doesn't grab their attention.
Struggling to identify and sell your transferable skills, experience and achievements - you must show employers / recruiters why they should interview you, rather than someone else.
Leaving out vital information or including irrelevant information will lead to employers and recruiters quickly rejecting you.
Failing to show how you added value in each job, so employers and recruiters won't see any benefit in employing you and will just move on to the next Profile.
How Can You Win More Interviews With Our LinkedIn Profile Writing Service?
We are extremely skilled with over 28 years' experience of producing compelling content that impresses employers and recruitment agencies. To create an impressive personal LinkedIn Profile just for you, we will:
Uncover your skills, experience, talents and achievements that will make your LinkedIn Profile stand out and attract the attention of both employers and recruiters.
Powerfully word your Profile to instantly convince employers and recruiters that they must interview you, rather than someone else.
Ensure your Profile contains only the most relevant information that will quickly make others want to meet you.
Demonstrate how you've used your skills to add value in each job and how you can therefore add value at your next employer, so they can clearly see the benefits of employing you.
Present you in the best possible light, so whoever reads your new LinkedIn Profile will be immediately impressed and it will leave a lasting impression that appeals to employers and recruiters and makes them want to interview you.
How Much is Our Professional LinkedIn Profile?
Bradley CVs can produce the crucial parts of your LinkedIn Profile (the headline, summary, experience and education sections), either as free-standing content or in conjunction with a new professional CV.
Producing an expertly written LinkedIn Profile at the same time as we're producing your CV is

£89, saving £30

compared to a LinkedIn Profile ordered afterwards, which would be £119.

You can save £100

by ordering a cover letter and LinkedIn Profile at the same time as your CV for £118, compared to purchasing a cover letter (£99) and LinkedIn Profile (£119) separately afterwards.
Creating a standalone LinkedIn Profile is £197, when we haven't written your current CV.
Why Trust Bradley CVs Rather Than Another Company?
If you'd like to get a superior LinkedIn Profile, then please check out Bradley CVs outstanding credentials:
More experience: Bradley CVs have over 28 years' experience, far more than other companies and so we are a proven leader in this field.
Better analytical skills: Bradley CVs can identify and uncover your transferable skills, talents, experience and achievements, even if you're unsure what they are, which will ensure that you beat your rivals.
Recruiter / employer knowledge: Knowing what information recruitment agencies and employers expect to see on your CV ensures that your CV will stand out and won't be immediately rejected.
Proven copywriting expertise: We've mastered the art of selling you to employers and recruiters, making them want to meet you and ask you to those all-important job interviews.
Other Services Offered by Bradley CVs:
Other Pages You May Want to View: