Free Graduate CV Example Featured In The Guardian Newspaper
Below, you'll find an original CV and a new interview-grabbing CV that Bradley CVs produced for Helen Shaw for the Guardian's CV Clinic, which enabled Helen to beat 100s of other job applicants and secure the dream job that she'd always wanted.
After the CVs, you'll find a critique of the original CV listing the fatal mistakes Helen made, which you may find useful if you're making any of these mistakes yourself. Need an interview-winning CV? Then please view the CV Writing Service.
New Graduate CV Example by Bradley CVs
Please note that the copyright statement that appears on the graduate example CV below does not appear on the CVs we produce for our clients - it is merely there to assert our copyright on this website.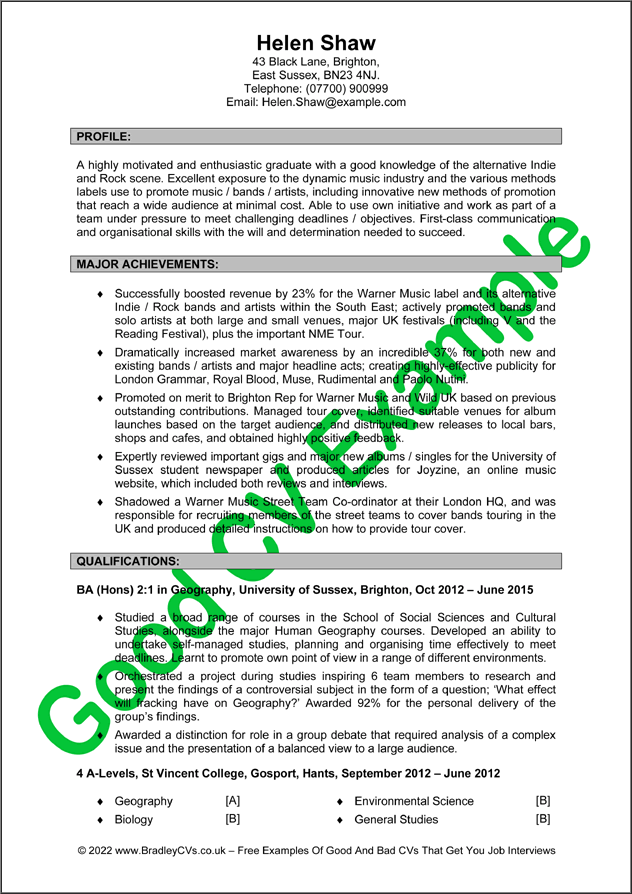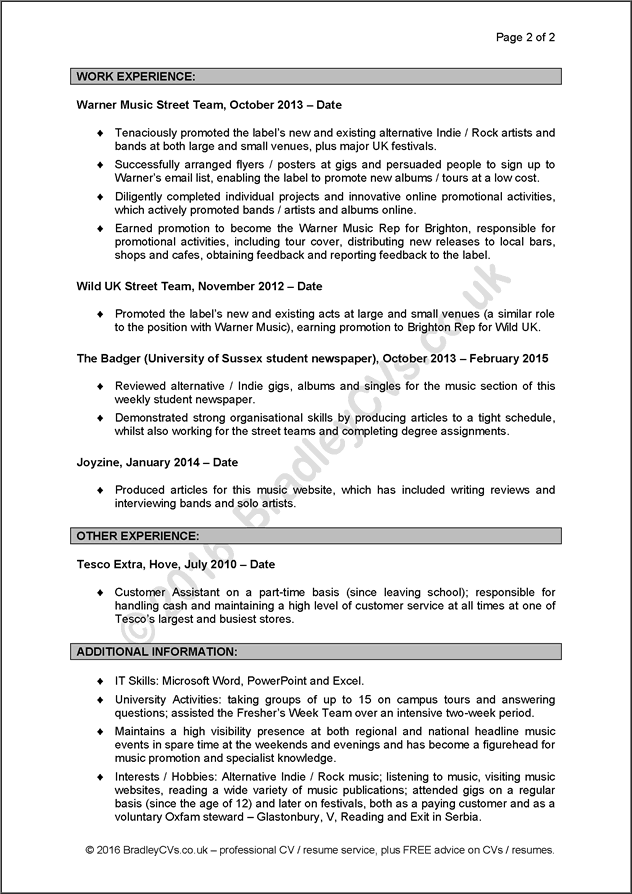 Helen's Original Graduate CV Example
Please note that all Helen's personal details (name, address, telephone number, email address and date of birth) have been changed to protect her identity.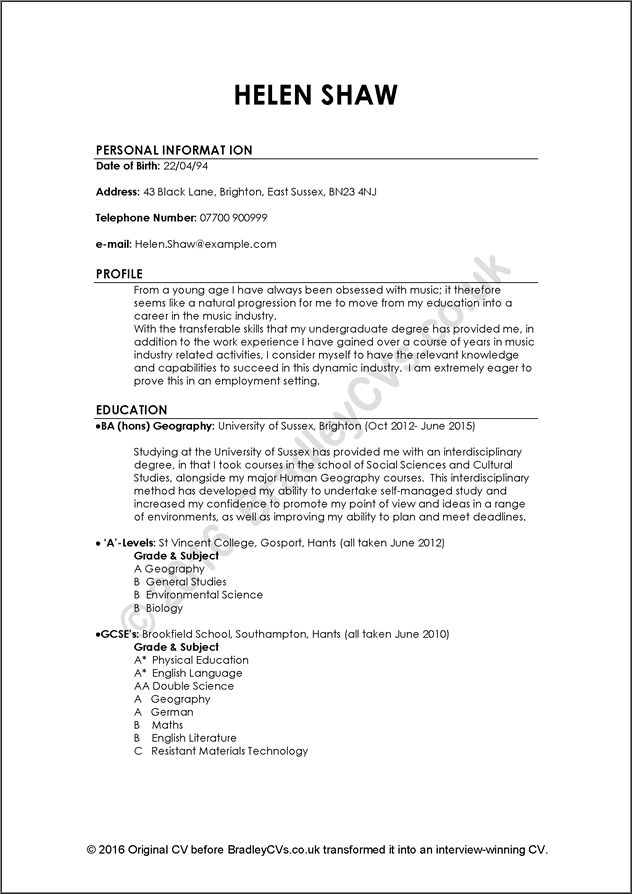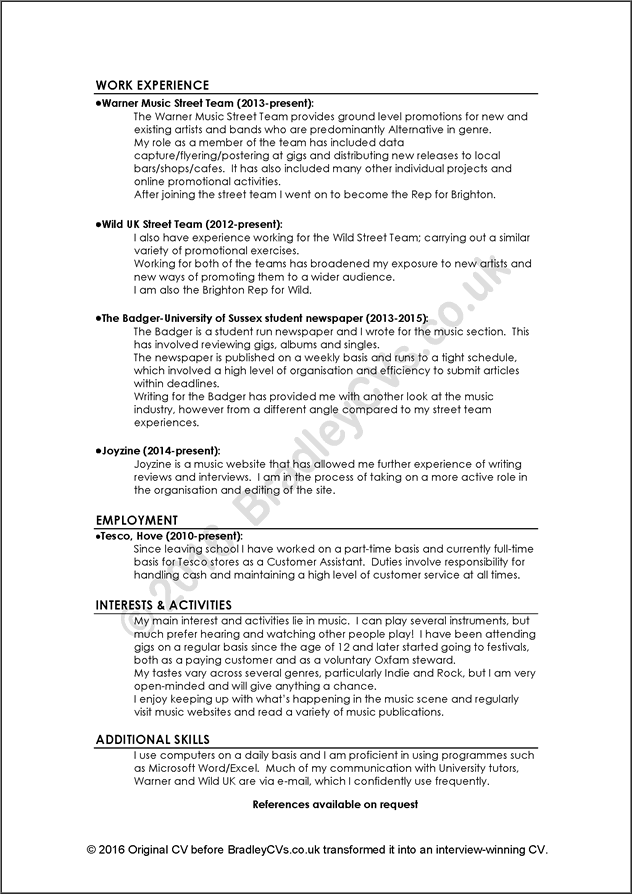 Critique of Helen's CV by Bradley CVs
Overall
Competition for the best job vacancies can often be fierce (with 100s of applicants), which means that you need a powerful CV to beat the other applicants and get the interviews that you want.
Helen's original CV just didn't grab the employers' attention, which is why she wasn't getting any interviews.

If your own CV is letting you down

, then you might want to consider using a professional CV writing service like Bradley CVs.
Helen has lots of relevant experience (as we found out when we talked to her), but this doesn't come across on her CV, which is a real shame!
There are a number of basic mistakes on Helen's CV, the type of mistakes that a lot of people make on their CV, which can cost you interviews.
However, it's not all bad news - the layout of the CV is crisp and clear and Helen has used a modern font.
Profile
The profile doesn't really say much about what Helen can do for an employer.
It needs to be far more dynamic and really engage the reader and make them want to invite Helen for that all-important job interview.
In the profile you must talk about the skills and experience that are relevant to the job that you are applying for - Helen therefore needs to make far more of the excellent experience she has already gained.
Major Achievements
There is no major achievements section on Helen's CV - this is a vital part of any CV and should come immediately after the profile.
Whether you're just looking for your first proper job or you have extensive experience, you should always have an achievements section, showing what you have achieved so far.
Helen has lots of relevant experience - so she must highlight this experience on the first page of her CV within a major achievements section.
Education
Helen had missed out her degree classification, an excellent 2:1, this is a very serious omission, her 2:1 must therefore be added to her new CV!
Work Experience
Helen needs to bullet point the sentences within each job, this breaks up the text and makes it far easier for someone to read her CV.
With plenty of relevant experience, Helen really must make more of this on her CV and provide a better description of each role.
Like a lot of people Helen has missed out lots of relevant and interesting facts that would make her CV far more exciting and really make someone want to meet her for an interview.
How We Produced Helen's Interview-Winning CV And How You Can Improve Your Own CV And Win Interviews
To improve your CV and win interviews, you must ensure that your CV contains all the information that an employer expects to see and it must really sell you to an employer, telling them what you specifically have to offer - so you get ahead of all your competitors.
Employers want to know how your experience, skills and achievements relate to the job that they are trying to fill. We conducted a detailed telephone consultation to find out this crucial information - if you're writing your CV yourself, you'll need to carry out your own analysis.

If you'd like an interview-winning CV, see our

professional CV service. Bradley CVs has over 28 years' experience in helping people just like you win the interviews you deserve.
Overall
We discussed Helen's career aspirations - you must tailor your CV to the job vacancies you are applying for - this is vitally important if you want to increase your chances of securing interviews.
In addition, we also identified vital information that Helen had left off her CV - there are some things that only a trained interviewer can spot!
The CV was far too passive and didn't sell Helen, so we described Helen's experience, skills and achievements using more active and action-centred words. You need to do this yourself if you want to get a job - you must be seen as being active rather than passive.
Helen had made a number of basic mistakes on her CV. This can cost you interviews and mistakes are not always easy for you to identify (Helen was completely unaware of the mistakes she had made). We therefore identified and corrected the mistakes that Helen had made.
Profile
The Profile section on your CV is likely to be the first thing that an employer / recruiter reads. Identifying what to put in your profile is therefore vital - if you get it wrong no one will bother to read the rest of your CV!
Helen's Profile was really letting her down - it's hard to be objective about yourself, so we evaluated and analysed Helen's overall experience, skills and abilities.
We injected Helen's enthusiasm, experience and skills that had really came across when we talked to her on the telephone (none of these had come across well on her original CV) - you must do the same, if you want to make an employer really sit up and take notice of your CV.
Major Achievements
Helen hadn't listed any achievements on her CV, this is vital as it tells an employer the benefits of employing you.
Deciding on your achievements is the one thing that almost everyone seems to struggle with on their CV. During our consultation with Helen we uncovered a number of really good achievements that would really make her application stand out.
Make sure you give a lot of thought to your own achievements, as you must get this vital section right on your CV - achievements are a key differentiator, when it comes to who an employer should interview.
We added in a new major achievements section and highlighted Helen's excellent achievements that we had uncovered during the telephone consultation.
Your achievements give you a chance to shine, so you must make the most of them if you want to attract attention to your CV ahead of your competitors, other people applying for the same jobs as you.
Work Experience
The work experience section needed to be improved - like most people Helen wasn't sure what to include on her CV. As skilled interviewers we uncovered numerous important details that Helen hadn't even thought about including, which would make an employer / recruiter far more inclined to want to meet Helen.
If you're writing your own CV, make sure you give as much thought as possible to your work experience and what an employer really wants to see on your CV - it may not be what you expect!
Helen's work experience needed to be rewritten and we have conveyed a lot more about her experience and transferable skills, which we identified during the consultation.
You must always tell an employer about the precise skills and experience that you can bring to a new job.
Success - A New Job!
Following the production of Helen's CV by Bradley CVs, Helen started applying for jobs.
Where her previous CV had hindered her interview chances, her professional CV from Bradley CVs made a real difference and Helen was swiftly interviewed and offered a job with a major record label.
Do You Want to Improve Your CV and Win More Interviews, Like Helen Did?
If you really want to improve your CV, making employers take notice of you and getting more interviews, then:
Check out our professional CV service, as we can create a very impressive CV for you that will secure the job interviews you would like with employers.
Other CV Example Pages:
Additional CV Service Pages:
Other Services: