Why Should You Choose Bradley CVs, Rather Than Any Other CV service?
Founded by Paul Bradley in 1993, Bradley CVs has always provided an outstanding, specialist CV writing service for its clientele.
Since then, we have developed extensive skill and expertise in producing interview-generating CVs that win our clients the interviews they deserve.
As a leading CV writing service and authority on CV writing, job search and interviews, we are regularly quoted in the national newspapers. This has included major articles in the Guardian, The Times, the Daily Telegraph, The Independent and the Financial Times.
Our goal is a very clear and simple one: "To win you the job interviews you deserve" by creating an imaginative CV for you that stimulates an employer's interest in you and compels them to interview you, rather than all the other applicants.
How Does Bradley CVs Guarantee That You'll Get Interviews
Quite simply, through having more experience and expertise than other CV services, a bold claim backed up by:
28 years' experience in expertly writing CVs, more than almost any other CV writing service - you'll find it almost impossible to find another CV service with our level of skill and expertise.
Your current CV will typically contains 10 or more fatal mistakes, which will cost you interviews. We can quickly and easily eliminate these mistakes and dramatically improve your CV, ensuring you'll win more interviews.
We've devoted 1000s of hours to researching what makes the perfect CV, identifying the fatal CV writing mistakes that you've made and analysing the experience, skills and results that employers and recruitment consultants must see on your CV to secure you an interview.
Our proven copywriting expertise will win you more interviews, making your CV stand out compared to all the other applicants' CVs - when we analyse the CVs produced by other CV services, we find most offer little more than a typing service and lack our copywriting prowess.
We'll eliminate any specific issues or problems you face by providing expert advice on all aspect of CV writing, finding a job or interviews, so they don't cost you any vital interviews or job offers.
Interview Guarantee - in the unlikely event that you don't get any interviews with the CV we wrote for you, we'll rewrite or update it as necessary.
How Bradley CVs Guarantees You'll Get The Best Consultant To Write Your CV
Whenever we advertise a job for a CV Writing Consultant, we always receive 100+ applications. The majority we have to turn away, as they don't meet our requirements of being skilled in both recruitment and copywriting.
Most applicants tend to be skilled in one or the other, but not both, even though they have worked for our competitors, run a CV writing service themselves, or been employed as a recruitment consultant or HR manager.
The consultants that we appoint offer a unique blend of recruitment knowledge and copywriting skills that enables them to produce an interview-winning CV for you.
But we don't stop there, we ensure that each Consultant continually receives additional training to hone their excellent copywriting and interviewing skills.
You can rely on us to produce a superior CV that will get you interviews, because we only choose the very best and most talented consultants.
How Our Managing Director Ensures That Your CV Will Generate The Interviews You Deserve
Paul Bradley, the Managing Director of Bradley CVs, is responsible for ensuring that your CV will be a highly effective professional document that successfully attracts interviews.
With over 28 years' professional CV writing experience, Paul is well regarded within the industry and he has personally reviewed and expertly written 1000s of CVs, always ensuring your CV will meet your needs, and generate the interviews you'd like with both employers and recruiters.
He is a fully qualified recruiter, having successfully completed the Diploma in Recruitment Practice (DipRP) from the Recruitment & Employment Confederation (REC), the professional body for the recruitment industry.
As a member of both the Chartered Institute of Personnel & Development (CIPD) and the Institute of Recruitment Professionals (part of the Recruitment & Employment Confederation), Paul is committed to ensuring that Bradley CVs meets and exceeds the highest professional standards.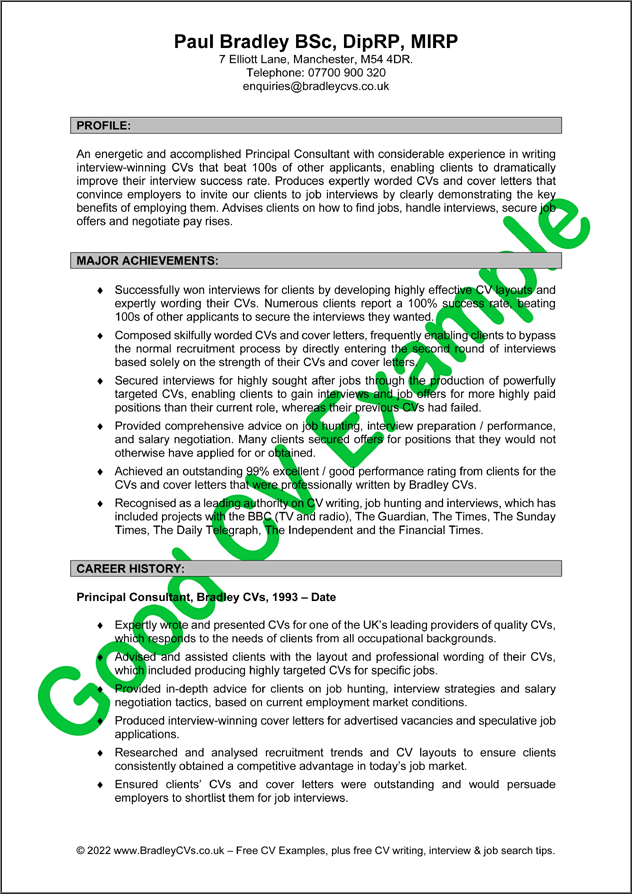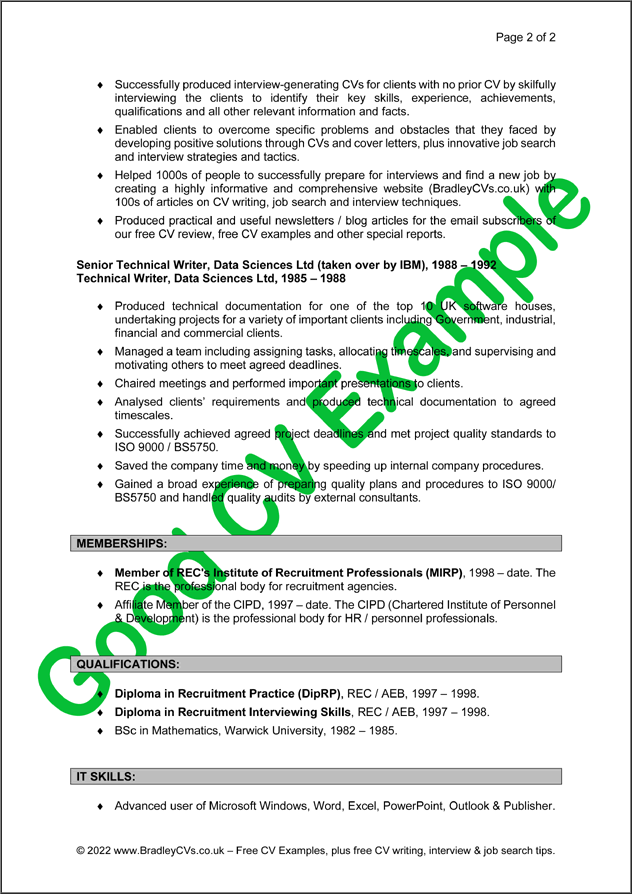 Do you want to improve your CV? Our Professional CV Service can significantly increase your chances of getting the interviews you want.
Other professional CV service pages:
Example CVs / Report:
Other Services by Bradley CVs: