Free Examples Of Good And Bad CVs That Get Interviews
There are plenty of good and bad example CVs on our website. This page features the original bad CV written by Helen Shaw and the good CV produced by Bradley CVs.
The critique below the CVs may expose some of the crucial mistakes you are making on your own CV - this critique was featured in the Guardian Newspaper's CV clinic.
Good CV Written by Bradley CVs
This excellent example CV shows you how a professional CV service can successfully rewrite a poor CV, which enabled Helen to quickly win her dream job with a highly prestigious company (a major record label).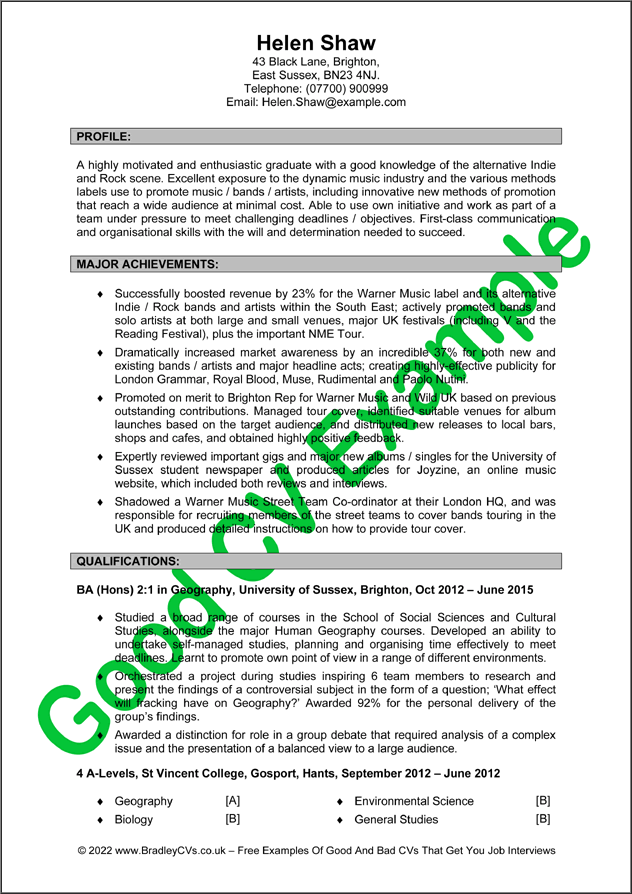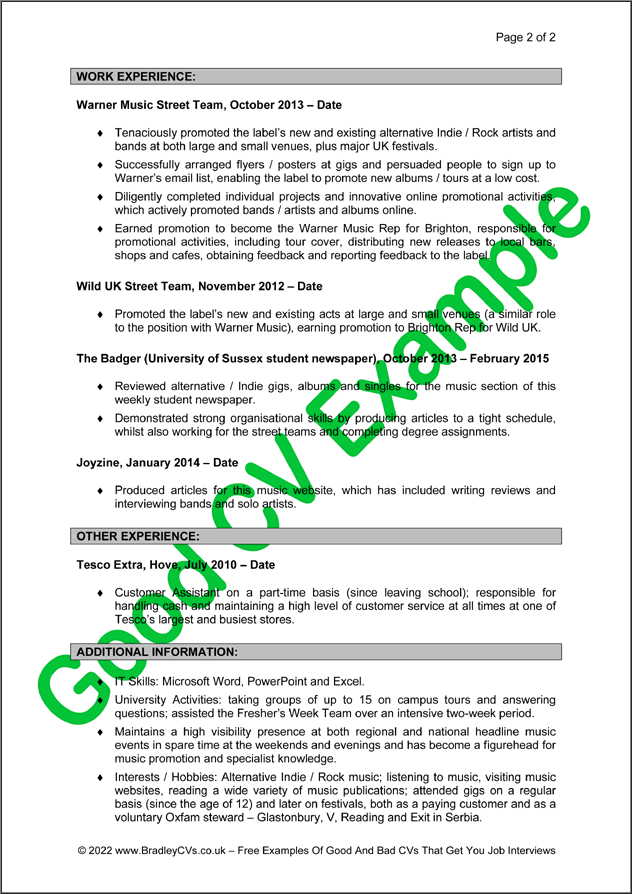 Want to see more good and bad CVs?
The Example CVs page has a further before and after CV, plus there's another good and bad CV on our Sample CVs page - these CVs quickly won job interviews for the clients we wrote them for.
Do you need a better CV? Professional CV writers can create a CV for you that impresses both employers and recruitment agencies, swiftly generating the job interviews that you would like.
Original Bad CV
All personal details in the bad CV below have been changed to protect Helen's identity, including date of birth, address, mobile phone number, email address and all dates.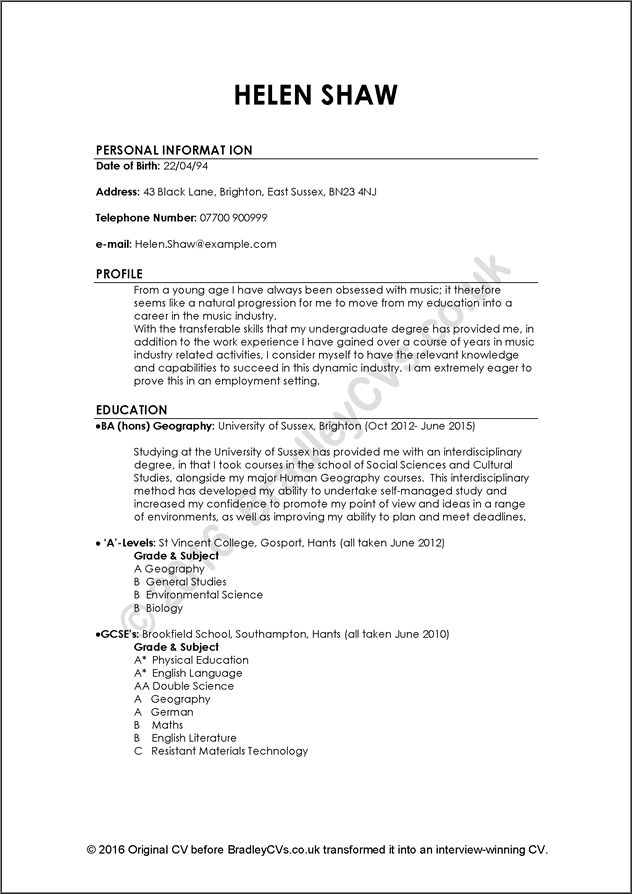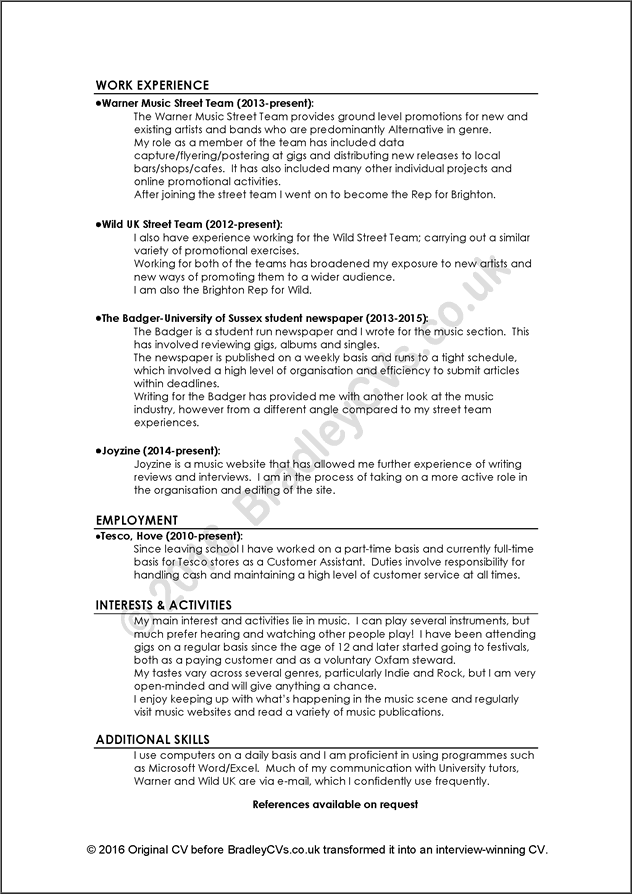 Critique of Helen's Bad CV by Bradley CVs
This critique may help you identify some of the crucial mistakes that you could be making on your own CV.
Free CV Review - Discover the fatal mistakes that you are making on your own CV and how you can dramatically improve your CV and land more interviews.
Brief:
Helen was seeking a new job and her current CV was being completely ignored by the employers that she wanted to work for.
She required a good CV that reflected the excellent experience she already had, which she just wasn't conveying properly in her current CV.
Overall:
The CV just didn't capture an employer's interest, as it didn't sell Helen and her key skills, experience and achievement to a potential employer at all. You must think clearly about what precisely you have to offer an employer.
Competition for the best jobs is intense and a weak CV like this is easily discarded by employers, which explains why Helen's CV wasn't getting her any interviews.
She actually had plenty of experience and some good results that she hadn't adequately described on her CV (that we found out about when we spoke to her).
Helen had also made several major omissions on her CV that had probably cost her numerous job interviews in the past.
Her original layout made it easy to find information, but unfortunately she just hadn't included enough of the right sort of information to allow an employer to decide that she merited an interview.
FREE Report: How to win interviews by significantly improving your CV.
Profile:
Helen's Profile failed to mention her relevant experience and abilities for the jobs she was applying for, which is really bad as this sort of information is crucial.
Your Profile really needs to grab an employer's attention, encouraging them to ask you to that vitally important job interview that you want.
In your own Profile, you must tell a potential employer about your experience and abilities that match the job you want to apply to - in this case Helen and probably you too must make more of the skills and experience you already have.
Major Achievements:
Helen's CV lacked a Major Achievements section, which should form a a crucial part of any CV (add one if you haven't already got one) and this section must be listed straight after the Profile section.
It's always important to focus on what you have achieved, even if you are just beginning your career - employers want to know exactly what you can do for them.
In actual fact Helen had lots of great achievements (and you do too, even if you don't think you have) which we uncovered when we spoke to her - you just need to identify your achievements and then sell them on your CV.
Education:
Helen has left out her class of degree - you might do this if it was poor, but in Helen's case it was a good 2:1.
Failing to list a 2:1 will put off some major employers who are specifically looking for candidates with a 1st or 2:1 - you could miss out on interviews if you fail to list your degree classification (if it's good).
Helen's 2:1 degree classification must be added to her CV - so she isn't ruled out for a job interview.
Work Experience:
The work experience section was difficult to read, as it hadn't been bullet pointed. Using bullet points makes a CV easy to read - so make sure that you use bullet points throughout your CV.
Helen's explanation of each job doesn't give a full picture of her experience and achievements in each role - so an employer won't realise her actual capabilities and accomplishments.
When you're writing your own CV, make sure you highlight what you've achieved in each job. If your CV looks exactly like everyone else's, then an employer will have literally no reason to invite you for an interview.
There were no facts and figures on Helen's CV, which give context to her experience and the results make the CV come alive for the reader - make sure that you include any relevant facts and figures on your own CV, as these will entice an employer to want to interview you.
Good CV Created By Bradley CVs
To view Helen's new CV please see our Excellent Example CV - this CV landed Helen the new job that she'd longed for.
Other Web Pages You May Wish To Visit
Professional CV Service / Example CVs:
Other CV Service Pages:
Further Services: