Why Has Your CV Just 30 Seconds to Win an Interview?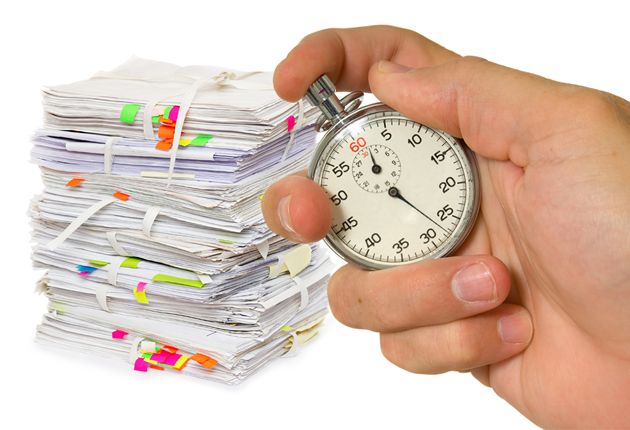 You can share this article by clicking on the buttons below:
In this interesting new article you'll:
Discover why your CV has just 30 seconds to win you the job interviews that you deserve.
Learn about the most common fatal CV writing mistakes that are likely to be costing you interviews.
Find out how to make your CV grab an employer's attention in just 30 seconds.
Plus our top 10 tips will teach you how to quickly improve your own CV, so you'll win more interviews.
Could it really just be 30 seconds?
You've probably heard people say that your CV has just got 30 seconds to grab an employer's attention countless times.
But when you read your own CV, how long does it take you to read it through from the very beginning to the very end - 2 minutes, 3 minutes, 5 minutes?
So why does everyone proclaim that your CV has just 30 seconds to win you an interview.
Let's look into the mind of an employer
It's 9am in the morning and your boss has given you the task of reviewing all the applications for a job vacancy in your team.
You must come up with a shortlist of 5 candidates, which must be on your boss's desk by 4pm today, so the boss's PA can contact the shortlisted candidates to arrange interviews for next week.
Your boss used a multi-posting site that blasted the job advert to dozens of job sites, which means that you now have 200 applications to read.
This morning you have a team briefing and lots of emails to answer, so you decide that you'll look at all the applications later in the morning. Plus of course looking at CVs and cover letters is really boring and you'd far rather do more 'interesting' things.
Before you know it, lunchtime has come and gone and it's now 2pm and you really must sit down and go through the 200+ applications, you can't put it off any longer if you're going to hit the 4pm deadline for the shortlist.
36 Seconds Per Application
You've got just 2 hours left, which is 120 minutes or 7200 seconds to read the 200 applications. This equates to just 36 seconds per application (7200 divided by 200).
Some applicants have included just a CV, some have included both a CV and a cover letter, which means that you may not even have 30 seconds per CV.
This was a slightly extreme case, but it does really does happen. Deadlines are getting tighter and tighter, with employees expected to get more and more done in less time.
People are now incredibly busy at work, they just don't have time to devote 5 minutes to reading each CV.
Plus reading CVs is usually incredibly boring and something that most people would rather avoid!
Most employers will just 'skim' each CV and make an almost instant decision over whether the CV is rejected or added to the shortlist to be interviewed.
So, whilst not every employer will spend just 30 seconds, most will spend under 60 seconds, meaning that you need to impress them really quickly if you want to get onto their shortlist.
Employers are looking for reasons to reject your CV
If you've got 200 CVs for a job vacancy, as we said before, you can't possibly interview everyone of those 200 applicants.
If you just want an interview shortlist of just 5, then you'll need to reject the other 195 CVs, which means that you're really looking for reasons to reject each CV, rather than for reasons to accept a CV.
This is actually fairly easy for an employer to do, because ...

Most CVs are rubbish

How do we know this? Because as a professional CV writing service, Bradley CVs has looked at 1000s and 1000s of CVs just like yours.
The majority of the CVs we see are fairly weak and contain numerous fatal mistakes that will clearly cost the candidates job interviews.
Worse still, some people don't even realise their own CV is weak and have to learn the hard way, by getting rejection after rejection, until it finally dawns on them that it might be their CV.
What fatal mistakes may you have made?
Your CV is your sales brochure to an employer, it must make them want to meet you rather than all the other candidates that have applied if you are to successfully win interviews.
Here's a few of the fatal CV writing mistakes we see:
Almost all CVs fail to sell the applicant directly to an employer, because they don't use words and phrases that instantly grab an employer's attention and say this is the applicant you must interview.
Poorly formatted CVs make it difficult for employers to quickly find what they want, which means they'll just move onto the next CV.
Most CVs don't convey all the relevant skills, experience and achievements, so they don't match the job vacancy, which makes it very easy to reject these CVs.
A lot of CVs include too much information or irrelevant information - the employer's attention span is short, if they can't find what they want quickly they'll just reject the CV.
Even if you're a good candidate you can miss out on interviews if your CV doesn't compare favourable to the better CVs that an employer will receive.
So if you're a good candidate with a weak CV the fastest way you can get more interviews is to improve your CV.
How to make your CV grab an employer's attention in just 30 seconds
Here's Bradley CVs top 10 tips to quickly improve your CV:
Keep your CV short and sweet, preferably 2 pages, remember employers don't have time to read every word on your CV in 30 seconds.
A straightforward layout with section headings that stand out is best, so employer's can quickly find the information they want - make it difficult to read or over complex and they simply won't bother.
Don't go over the top with superlatives, always use language that is appropriate to your job title and the level you're at - you can easily put employers off.
But, don't undersell yourself, your CV must sell you and all your skills and experience, telling an employer why they must interview you rather than all the other candidates.
Whether you're at a high level or just starting out, you must show how you can add real value to the job you're applying for.
Focus on the results and achievements you've had that are relevant to the job you are applying for - make it easier for the employer to say "Yes, this person has what it takes to get the job done well".
Write a powerful Profile statement at the beginning of your CV, this must sell you and your experience to an employer, but again, keep it short - no one wants to read a half page of waffle.
Leave out anything that isn't absolutely necessary, focus your CV on what is listed in the job advert.
Don't include anything that might be construed as negative - if you raise any doubts at all in the employer's mind, then they will quickly reject you and move on to the next CV.
Check your spelling and grammar, errors can make you seem careless with poor attention to detail.
Share This Article
You can share this article by clicking on the buttons below:
Other Pages You May Wish to Visit
Professional CV Writing Service