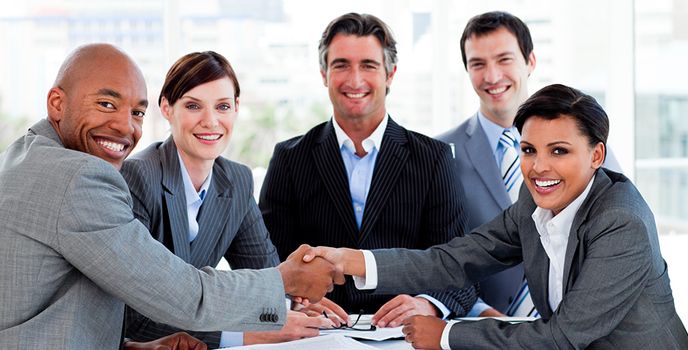 Once you get to a job interview, will you be able to beat all the other candidates and win a job offer, or will someone else steal that job offer that should have been yours? SMART Interview Preparation by Bradley CVs can transform your interview performance.
Remember, you really only have one chance to get a job interview right.
The candidates who get job offers are not necessarily the most experienced or best qualified. They are the candidates who have prepared best before the interview. You can no longer just turn up unprepared, because an experienced interviewer will just destroy you.
But, how well prepared are you for a job interview?
It can be terribly difficult to prepare for an interview on your own, as it's impossible to be objective about yourself. As experienced interviewers, we have come across all the problems you face and can tell you objectively where you are going wrong and how you can vastly improve your own interview performance and win the job offers you desire.
What Problems Do You Face at a Job Interview?
If you have any of the problems listed below, then you would greatly benefit from SMART Interview Preparation by Bradley CVs:
When you attend interviews, do you get as many job offers as you think you deserve?
Can you handle difficult or unexpected interview questions that an interviewer may ask you?
Are you able to convince an interviewer that you are better than all of the other candidates?
Will an interviewer quickly uncover any weaknesses that may immediately rule you out?
Are you lacking confidence or do you feel very nervous before the interview itself?
Do you have any specific problems or issues that may potentially cost you the job offer?
Do you worry about your overall interview performance and how you come across?
How often after an interview do you say to yourself: "I wish I'd handled that better, if only I'd said ... instead!"
You may struggle to get job offers, if you have any of the above problems, because there are lots of other great candidates who are happy to steal the job offers that could have been yours.
Are you supremely confident that you can overcome these problems on your own? If you can't, then you may struggle to get the job offers that you desire and it may take you much longer to find a job than it should do.
You can totally eliminate all these problems with SMART Interview Preparation and the SMARTER Interview Preparation Programme by Bradley CVs. Discover how you can excel in a job interview - don't end up frustrated and struggling.
SMART Interview Preparation £97
With SMART Interview Preparation you get an hour's telephone coaching tailored to suit your own individual needs, which can typically include one or two of the following topics (to cover more topics or for more in-depth help, please choose one of our SMARTER Interview Preparation Programmes):
Discover how to instantly answer difficult or unexpected interview questions that interviewers can throw at you to try and catch you out. We can provide expert advice and help you devise truly convincing answers that will enable you to beat the other highly experienced candidates.
A 'mock' interview to test your interview performance. This will include trial interview questions - if you mess up it doesn't matter, simply learn by your mistakes!
How to handle interview nerves and build your confidence. You will be prepared for the unexpected and feel in control and confident.
Identifying your strengths and weaknesses, so you can dramatically increase your chances by playing to your strengths and playing down any weaknesses.
How to negotiate and increase your next salary and get the salary level and benefits package you deserve.
Overcoming any specific problems or issues that you feel you may face at an interview.
With our 28 years' of experience and expertise we can advise you on any topic, including behavioural, situational and competency-based interviews, inexperienced interviewers, stress interviews, assessment centres, panel interviews, group and in-tray exercises, etc.
SMART Interview Preparation is only £97 Why leave your interview success to chance? Think how much better you'll feel, once you're thoroughly prepared for everything that an interviewer can throw at you. You will quickly improve your interview performance, which will help you win the job offers you desire.
The SMARTER Interview Preparation Programme, from £197 for a 2-Session programme
You may feel that you want to cover several of the topics listed under SMART Interview Preparation or that you would like more than just one telephone coaching session. For instance, you might want several sessions to practise answering difficult interview questions or you might need ongoing help and support whilst you are being interviewed for a particular job that you really want.
It can be hard trying to prepare for interviews on your own, but several sessions on the phone with a friendly expert can make a real difference to your interview performance. Your programme can be tailored to your individual needs and could for example include:
Help overcoming any specific problems or issues you face or overcoming setbacks (if you've already had interviews and they didn't go very well).
Fine-tuning your interview answers, especially for difficult or unexpected interview questions.
A second mock interview, which will allow you to find out if you've corrected the mistakes you made in the first mock interview.
Goal and objective setting - crucial if you aren't self-motivated and need someone else to motivate you.
Ongoing telephone coaching on any of the interview topics listed above under SMART Interview Preparation.
Options:
£197 for a 2-Session SMARTER Interview Preparation Programme, including 2 one-hour telephone coaching sessions.
£297 for a 3-Session SMARTER Interview Preparation Programme, including 3 one-hour telephone coaching sessions.
£397 for a 4-Session SMARTER Interview Preparation Programme, including 4 one-hour telephone coaching sessions.
What makes Bradley CVs stand out and why you should choose us?
We have a wealth of knowledge and experience about the entire recruitment process and how important it is to optimise an interview opportunity. You don't get a second chance to impress with a job interview!
Bradley CVs was founded in 1993 - throughout this period we have had the pleasure of successfully helping people with the complete CV writing, job search and interview preparation cycle.
There will no doubt be occasions when travelling home after an interview where you think of a far superior answer to a question than the one you gave in the heat of the moment. But of course it's too late to make amends after the event.
During the SMART Interview Preparation programme we will equip you with the tools and techniques to ensure you feel confident before attending the interview and are able to sparkle conversationally throughout it. So afterwards, you will no longer have any doubts about your interview performance.
Frequently Asked Questions About Our Services
You will find answers to the questions we are most frequently asked below.
What's included in the telephone coaching sessions?
This depends on what you want us to focus on, as the coaching is completely tailored to meet your individual requirements.
If you have booked SMART Interview Preparation (which is just a one-hour session), then we will only have time to focus on one or two topics - we'd recommend focusing on the area where you feel you are weakest.
If you opt for the SMARTER Interview Preparation programme, then there will be more time to look at your performance as a whole. In addition, you will get the chance to put what you have learnt to the test.
Do I need to supply any information before a session?
No, we will establish an agenda to suit you before we begin to deliver any content. Previous poor interview performances that are likely to cause you concerns in the future will be discussed and firmly addressed.
How will I remember what is covered?
Taking notes is optional, but it is an excellent way of remembering things in your own preferred style. To complement this you will receive a comprehensive aide-memoire in the form of the SMART Interview Preparation session notes that you can refer back to at any time.
I'll be applying for specialised jobs in niche sectors - can you still help me with interview preparation?
Yes of course! Irrespective of the type of job you are applying for, our interview preparation techniques will be suitable and we can adapt them accordingly.
Do you offer face-to-face meetings at your offices?
Our coaching sessions are not recruitment interviews, so there is no advantage in meeting face-to-face when a phone call at our expense is just as effective. We work with clients worldwide, so it is simply not practical or necessary for us to have offices in every town or city.
Being outside of the UK means I'm in a different time zone, can you still help me?
Yes, we are used to working across different time zones - all we ask is that you are able speak and understand English.
What methods of payment do you accept?
We accept Visa, Visa Electron, Visa Debit, MasterCard, Maestro, American Express, JCB, PayPal, UK cheques and UK postal orders.
Do you accept PayPal payments?
Yes, we accept PayPal.
Can I pay with a relative's or a friend's debit or credit card?
Yes, but you need to have this person present if you are placing an order on the phone, as our merchant provider requires the verbal consent of the card holder.
Our Services: