Why is Everyone Getting a LinkedIn Profile?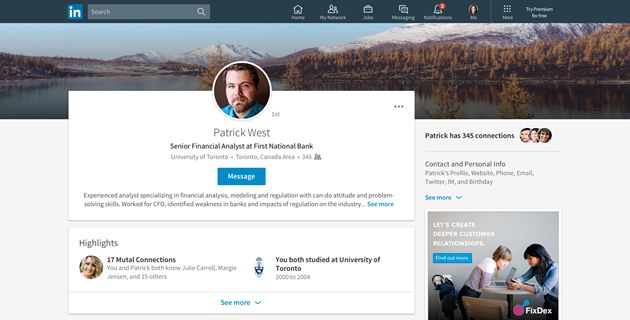 You can share this article by clicking on the buttons below:
In this indispensable guide you'll discover why everyone is getting themselves a LinkedIn Profile and what the real benefits of being on LinkedIn are.
What is LinkedIn?
LinkedIn is a 'market your skills' professional platform launched in 2003, which allows you to create a 'LinkedIn Profile', an online CV / resume that can be as public or as private as you want.
Global dominance began in 2008 when the first international office was opened in London closely followed by high profile Spanish and French versions to support the ever-growing 20 million members.
Today, LinkedIn has grown to become a massive household name recognised worldwide with a claimed 320 million members!
This self-promotion platform has caught the eye of like-minded successful individuals and recruiters / employers looking for quality staff.
So why become involved with LinkedIn?
Strangely a lot of people join in complete ignorance of the main features and benefits of the platform - they are on LinkedIn because their best mate at work is or they simply feel that everyone is on it so they must be as well.
If you're on LinkedIn, recruiters and employers can approach you directly without you having to do anything, plus if you're in business for yourself (or your employer), then potential clients can also get in touch with you.
LinkedIn can therefore be very effective if you're looking for a job now or in the future, or a new contract if you're a contractor or an interim.
Best of all LinkedIn is free to join - they do offer some paid options too, but you you'll probably never need them, as they are mainly aimed at recruiters and employers.
What are the real benefits of being on LinkedIn?
Passive job hunting (let the jobs find you):
You can keep your CV / resume online (as part of your LinkedIn Profile) for interested parties to view.
Be headhunted: recruiters and employers might spot you and subsequently make a speculative approach.
Invest time now: you never know what might happen with your current position or your employer.
If you put the effort into creating the right sort of Profile, you'll be rewarded with being approached for a new role - remember employers like passive happy job seekers, rather than a desperate individual who'll take any job.
Building your own network:
LinkedIn allows you to manage and grow your own professional network, whilst this will require some effort from you, the infrastructure is both impressive and freely available if you know how to maximise it.
You can add current and former colleagues to your LinkedIn network and contact them directly through LinkedIn without having to know their current email address or telephone number.
Always wanted to know what happened to a former boss / colleague or someone you aspire to be like? Then you can take a look at what they're up to.
Positioning yourself as an expert:
LinkedIn gives you personal branding for free, enabling you to reach a worldwide captive audience of over 320 million like-minded professionals.
Create your own centre of influence: build your status as a subject matter expert by interacting with LinkedIn's 'Groups' and projecting your professional competence.
Find the popular discussions within the Groups and target them for your own contributions.
Better still initiate your own discussion now and in the future so that you can be seen to lead the way and be identified as a 'Top Influencer'.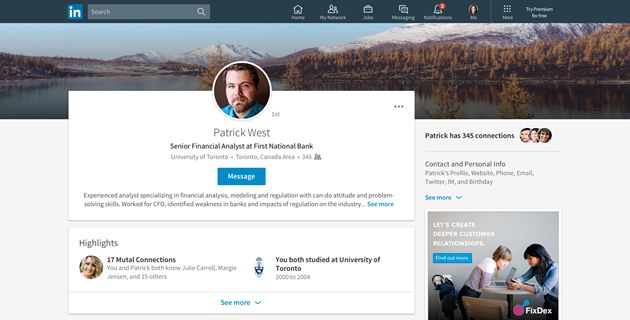 Other reasons to join:
Make the time to read the news feed for your industry or profession - know what is happening and why - plus who is making it happen.
It's also well worth joining LinkedIn if you are not an employee - maybe you are a contractor, an interim or temporary worker or you run your own business.
Go Freelance: Find new ventures or customers as distinct from another paid job.
Conduct market research for the feasibility of your product offering or service.
Seek feedback, testimonials or reviews of your product offering or service.
If you're a senior manager with employees, consider training them on how to use LinkedIn and get your company a high profile representation as a result.
Share This Article
If you found this article useful, then please share it with other people by clicking on the buttons below:
Other Pages You May Wish to Visit